The 2017 AGM and Awards presentation on 3rd December at the Blue Lias, Southam, was enjoyed by the 12 members who attended. Anna and Trish gave the grey matter a good workout with an unmounted orienteering exercise in Long Itchington to hone bearings and grids skills which was well received by all. We then enjoyed a lovely lunch before moving on the business end of the day – the AGM. Members will receive the minutes of the meeting and the annual accounts via email in due course.
The Awards presentation followed the AGM, congratulations to the winners of all our lovely awards.
CTG summer league: Level 1 winner Sarah Wynn, Level 2 winner Bella Craven, Level 2A winner Alex Sales, Level 3 & 4 winner Sue Lee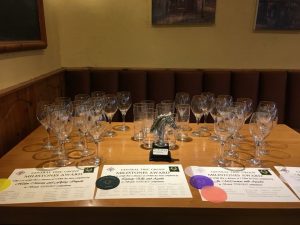 Phantom Flyer Award (presented to the CTG member achieving the slowest scoring MA canter at a CTG summer event) Janet Jones
Katy Memorial Trophy (awarded to the most deserving horse owned by a CTG member, as voted by the CTG membership) Tia, owned by Jo McCormac
Chairman's Award (presented by the Chair to the most deserving committee member) Neill Elliott
Well done to all the winners and here's to a great 2018!