Our indoor Onley competition and first CTG Indoor TREC Championship were a great success! One of the championship riders, Sue Lee, has written a great report about the day's events below.
The results are available here and photos are also now available here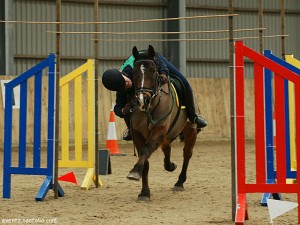 The CTG Indoor Championships
I can't lie! 
I was extremely nervous about bringing Louie, my 17.2hh dressage schoolmaster along to use for the CTG championships as I have not had him long; he has only ever seen dressage boards and thus far his only trip out has been to my trainer. So it was with some trepidation that I got on him with over an hour to spare before the start of the Indoor Championships class should he be tricky or sharp. Apart from a few spooks and confusion as to his situation he quickly reverted back to the Louie I fell in love with, phew!
The organisers kindly agreed on 2 exceptions to the course for him. Firstly that the canes were taken off the low branches and this was done simulated so as not to scare him. He was also mounted from the block for safety reasons as he can get extremely grumpy and strike out.
As expected in the first round some high scores were posted as everyone rode their own horses apart from poor Lynn who definitely had the rough end of the deal by not bringing her mare, Bianca.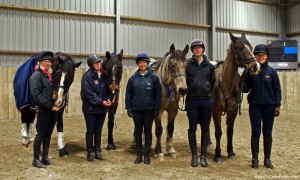 Louie was fab and although obviously confused, tried his heart out for me.
We were allowed 10 minutes warm up on each horse before our round so it was essential that I could find the buttons needed for the obstacles in that time. My routine on each horse was quite similar even though our horses varied in size and temperament.
I was very pleased to finish the day with a 100% record on my 30 canter in the COP, and also mightily received to finish without falling off, although I had a very near miss after the low branches on Bradley!
I was even more pleased with Louie and this experience has helped us to bond strongly. It must also be noted the sensitivity and res
pect that my competitors showed towards him was greatly appreciated.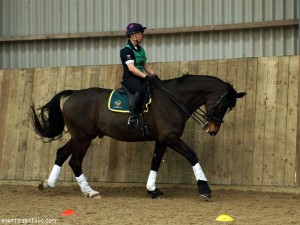 Massive thanks to CTG comittee, helpers and other competitors  for supporting us, our videos are now off to the selectors and I am confident that we all did ourselves very proud.