On 3rd March, TRECcies from all over the area descended on the Hilton Warwick for the most memorable night in the TREC calendar: the Winter Party and TREC Oscars!
Photos from the night are yet to surface, but they'll be on here as soon as we have some! In the meantime, the results of the Oscars are below:
Most Memorable Moment: Level 4 Stone Wall and Parham TREC
Level 4 stone wall at Dartmoor British Championships:
"There were some super jumps over a double of stone walls that looked 4 foot to me! The best was Mary Weston. We had a great afternoon watching the Level 4 riders going over this obstacle."
Parham TREC:
"Farmer locked the bridleway gate to farm gate so last section could not be ridden. An organiser's nightmare and a one-off need to re-draw the map whilst the competition was taking place!"
Most Original PTV Obstacle: Battlefield Sword, Battlefield Trec
"Fun and memorable and linked to the location".
Best POR: Robin Hood / Sherwood Pines TREC
"I LOVE the challenge of orienteering in the forest and this one did not disappoint. Thoroughly enjoyable ride and plenty of opportunity to practise the compass skills."
"Challenging with plenty of chances to get off course but then sort yourself out and never be really lost."
Best PTV:  Dartmoor British Championships
"Creative, interesting, great use of natural terrain."
"You could tell that a lot of thought had gone into the obstacles. Good theme at each one. Brilliant setting with great views for spectators."
Best Overall TREC Competition: Dartmoor British Championships:
"For beautiful setting and testing route, PTV etc."
TREC Star 2012: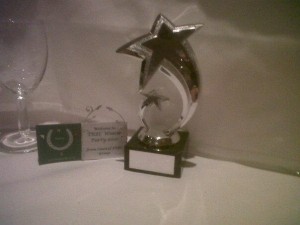 For this category each TREC club (as listed on the BHS website) was invited to make a nomination. Clubs were left free to choose whoever they thought most deserving of the accolade either within their own club or another, enabling them to recognise hard workers behind the scenes, up and coming competitors or high flying hardened TRECcies committed to the cause!
Beverley Stevens from Central TREC Group
"Bev came into the sport relatively recently but has thrown herself into the TREC spirit 110%. 2011 was Bev's first season at Level 3 and yet she is already actively encouraging more club members to move up from Level 2 by running grid reference and bearings training sessions as well as attracting more people into the sport by running demonstrations and generally providing advice. Bev's latest inititive is to offer grid reference plotting via the club's facebook page using old competitions maps – a genius idea that is being extremely well received."