Report from Bev Stephens and Steph Davis – Level 3 pairs Champions.
So after a stop off in C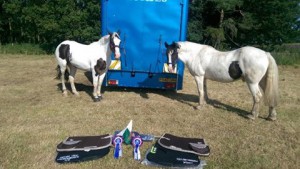 umbria myself, Steph, Henry & honey arrived in Scotland for the 2015 TREC GB championships . A great big corralling field with plenty of water & big bales of haylage (free) helped the horses settle in.
We had a very early start Saturday for the POR, drew our route and set off for a good ride with some lovely views; there was a mixture of fields, tracks, paths and roadwork with grids and bearings on the way for us competing at Level 3. We finished the POR and both commented that we had enjoyed the ride, both horses behaved impeccably. We were thrilled to find ourselves in the lead after the POR but only by a couple of points so it was all to play for on the second day.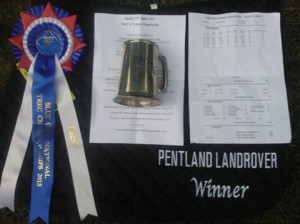 We both had good MAs with the course on a bend with a tricky entry through the timers then on to the PTV which was over 4k long! It rode well but being a galloping course some points were lost at accuracy obstacles. Once all the results were out we thought we were in first place overall but as it was very close between the top 3 we weren't sure until the results were announced, tears & cheers as we were read out as the winners, what a great ending to a fab GB championship in Scotland.