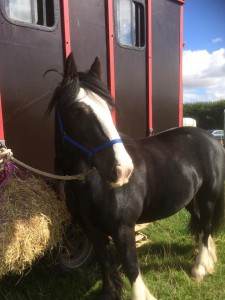 By Leanne Little
So September the 11th arrived and after a day at work I was so excited to be going to our last summer TREC of the season. We had almost arrived when the lorry exhaust snapped in half so a hectic start to the weekend with the breakdown service cover coming to fix it!
Camp and corral set up, my lovely boy Xander settled beautifully as usual and I settled down for my first night in the back of the lorry.
Saturday was the POR day and I would be riding as a pair with my friend Hannah and her mare Daisy Diva. This was our first TREC season and POR was not our strong point. I think we almost hold the record for the longest Level 2 POR at 6 hours!! So today we were determined to succeed.
We entered the map room and tried to stay calm and NOT rush. We felt confident we had copied the route correctly and found north on or compass before leaving the map room. On board again we trotted off trying to get to our first check point in the set time.  The route was fantastic and Xander and Daisy behaved impeccably. The horses were as focused as we were, ears pricked and happily skipping along the whole route. Counting the field boundaries seemed to be working well for us and we were confident the whole way around. It was definitely putting my mind at ease knowing where we were on the map!  Something we were not used too. We enjoyed some fantastic canters and views of beautiful countryside.
Before we knew it we were at the final check point and we hadn't got lost! I felt like we had won the Grand National! Such an achievement for us both after a first season of getting lost on EVERY POR we had done!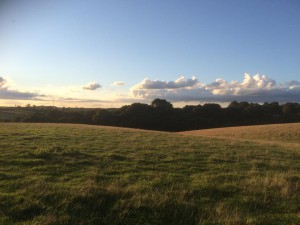 Ponies washed and fed we headed to walk the PTV course for tomorrow. The course was amazing! Undulating ground and stretches perfect for gallops and making up time. Once back from the course walk we went to the local pub for a fantastic social. After spending years showing where competitors don't look at each other let along chat, it was a breath of fresh air to be with such lovely friendly likeminded people. More experienced TREKKIES offering us tips and helping us out. The results came in for the POR phase and we were shocked to find we were in joint 1st place! I was so proud we had finally done our horses hard work justice. We had navigated pretty much perfectly around the route. Time for the second night on the lorry floor!
We woke bright and early for today's MA and PTV! Feeling slightly nervous and for once feeling we had something to play for we went down to the MA, the canter felt good, walk a little slow but I was proud he had tried his best for me.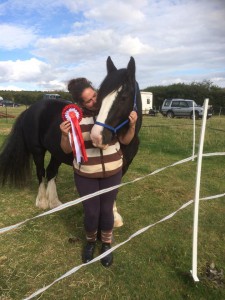 Xander and I headed to the PTV first and he gave me a super ride around! Forward going and loving every minute it was hard to think that less than a year ago he had, had colic surgery and that I had nearly lost my boy. Looking down at my stop clock we were making excellent time and I couldn't help but smile the all the way around. He was alert and excited around the course a different pony to the one falling asleep bored in the show ring! We crossed the finish like I was so proud of him. He took me around like a little pro looking after me the whole way around. Daisy's turn next, Hannah arrived back with a huge smile on her face. Daisy had been a superstar Hannah was chuffed to bits!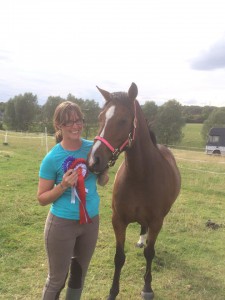 Waiting for the results seemed a lifetime. When they were finally announced them our names were read out in first place! We were ecstatic; FINALLY we had pulled it all together. All our effort and practice had paid off! Team XANDIVA had won our first Level One TREC! I had never felt so happy. Out of all the rosettes Xander had won showing this was the most memorable.
I would recommend everyone to try TREC!