The much anticipated Champs arrived but unfortunately so did the rain!
Friday evening was the first vet check, Xander and Dennis passed with ease. Then it was onto setting up the Central TREC camp in torrential rain, an interesting and soggy first evening was spent sheltered in my lorry enjoying pot noodles and cups of tea.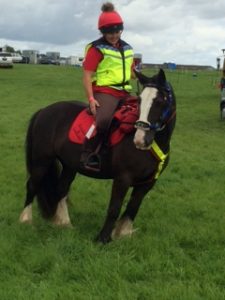 Saturday morning began! POR day…
Xander and Dennis were looking super smart and were raring to go! The map room time flew past super quick as per usual but we were both feeling pretty confident. Our two pocket rockets stood on the start line full of excitement and thirst to get their legs stretched! Off we went….the route was fantastic! We enjoyed navigating our way through the Northamptonshire countryside. Our POR finished with a super pit stop at a lovely local pub!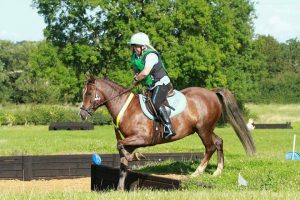 That evening we enjoyed a very entertaining course walk led by Bain. The PTV course looked to be nice and challenging. One obstacle in particular seemed to be playing on competitors minds! This was the path crossing which consisted of a meaty step down and step up. Lots of suggestions were being bounced around on how best to ride this obstacle!
Saturday evening we enjoyed a Central TREC get together of laughter, stories and a lovely steak meal rustled up by my awesome partner Chrissie! Our camp was super bright lit with fairy lights and solar lamps, other competitors that walked past commented on how they loved our little set up! Saturday evening was dry and we all had a well deserved and much needed sleep.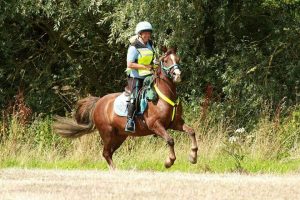 Sunday morning arrived along with the excitement of the looming MA and PTV course. The boys passed their vet checks once again. Chrissie was riding first, I met her and Dennis on the finish line with big smiles which filled me with confidence for mine and Xander's round. Dennis had a great round and completed the path crossing.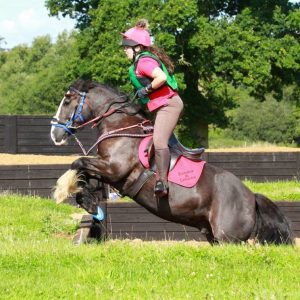 Time flew by and before I knew it we had done the MA and our time was being counted down on the start line of the PTV….5,4,3,2,1 we were off! My favourite part of TREC is always the PTV, we had a super ride round. Xander got a little excited which resulted
in our fastest reinback of all time unfortunately it was in a canter and it was in a forward motion! 0 points for that one! The obstacle everyone was talking about, the path crossing was in front of us, Xander to my delight gave me a lovely ride through and I was super proud of him. Nothing else mattered to me, I was so proud of him. I felt like we had conquered the world. That little pony had looked after me for another weekend not to mention a whole season and I felt like I owed him everything.
Chrissie and I have enjoyed a fantastic Summer Season travelling all over the country with Dennis and Xander. This was my first Championship and I loved every minute of it.
Leanne Little riding Xander was partnered with Chrissie Upchurch riding Dennis and they finished fourth in their class. Full results from the Level 1 Championships can be viewed here.