Just like buses…
By Sarah Wynn
For the last few seasons I have been begging and borrowing other people's horses in order to be able to compete at TREC, due to my lovely grey Connemara cross Storm Child (aka Twilight) having repeated lameness issues.  I seem to have worked my way through most of the Weston's horses, and a number of other friends' horses and ponies too.  I have to say a huge thank you to everyone who has generously loaned me ponies over the years.  But as wonderful as those borrowed horses are, and as lucky as I am to have been able to ride them, it just isn't the same as competing on your own horse.  Last autumn I finally accepted that maybe my lovely boy wasn't going to come sound enough to do TREC, so I finally found myself a young horse.  Mars is another Connemara cross (see a theme developing here?!) and was just a 4yo when I got her, having been recently backed and rapidly prepared for an eventing career before being put up for sale.  I turned her away for the winter to chill and then decided that we would take things slowly in 2016 just doing a bit of TREC and having fun.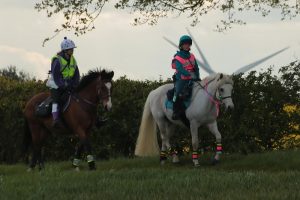 As is the way of these things whilst Mars was enjoying a relaxing winter in the field, Twilight decided that he was feeling pretty sound!  I started to take him out to the Central TREC Winter Series, which he thoroughly enjoyed.  He seemed to be feeling better and better.  I had entered Mars into the first TREC of the season, as pairs partner to Ellie Rayner in her first full season, but decided that it would be a lot to ask of Mars having only hacked out a few times prior to the event.  Twilight however was champing at the bit and fighting fit, so I made a last minute decision to take him instead.  He launched onto the lorry and came off at Park Farm with a huge smile on his face when he realised he was corralling – this must be a TREC!  As everyone with a horse with a history of lameness will appreciate, I was constantly worrying that the ground would be too hard for him, but the deluge on the evening before the competition soon sorted that issue and we were off!
Twilight and Toby (Ellie's partner in crime) had an absolute blast round the innovative course that Claire Pollard set which encompassed POR, MA and PTV all rolled into one.  Twilight thought that the ground was perfect and absolutely flew round!  He gave me the best ride I could have asked for and I had a smile plastered all over my face as he danced and pranced across the finish line telling me he was ready to go again.  The best part was that he was still sound when he finished and he and Toby were rewarded for their efforts with nice red ribbons!  In the end Twilight and Toby went to three competitions together, and when we got the PTV stage at each event Twilight showed me just how awesome he is by skipping round the obstacles with ease and a serious amount of enthusiasm.  My plan had been to take Mars to each of these competitions but I was so happy to have my lovely boy fit and well, and he was so enjoying being a TREC horse again that I couldn't not take him.  I was spoilt for choice, having had no pony of my own to compete I now had two.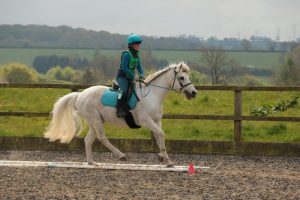 I did eventually have to tell him to wait at home and let Mars have a go, she was never going to learn to be a TREC pony if he kept going to all the parties, so as the ground got harder she took over.  She competed at her first TREC at Danes Farm.  The MA and PTV came up first, and they were certainly challenging for a young horse, with lots of spooky judges.  There were never any of those on the obstacles she practiced at home! (…A problem later rectified by a team of volunteers doing star jumps and sit ups around our own obstacle course!)  Despite the spooky judges and her crazy pony best friend screaming his head off for her, she tried her hardest, giving all of the obstacles a go and doing the jump and ditch at first time of asking.  I was so proud of her.  Our POR was less impressive, a last minute change of partners meaning that she had to partner her unreliable field buddy rather than the experienced and confident TREC buddy Honey that we had planned for her.  We were left with young Mars having to escort a nervous wreck around the POR.  After about a mile or so leading the way, Mars decided it was a bit much to ask her to lead the way past a scary quarry and other unusual things.  Oso, the unreliable best friend and neurotic companion, had no intention of putting himself into harm's way, he had had a stressful enough day already thanks very much, having left his courage at home, and was resolutely hiding behind Mars' tail.  Fortunately Oso's rider, my sister, was slightly more courageous than both ponies at this point, and took up the lead on foot for the next 2 miles!  Eventually Mars found her brave pants again and took over the lead, allowing Katie to get back on board and us to breath a sign of relief.  We did get home, eventually, but Mars said being the grown up was exhausting and she was very tired at the end.  First competition completed!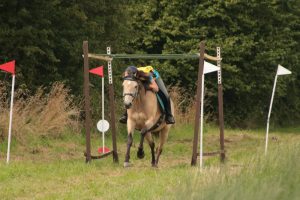 Then it was on to Widmerpool with our ace TREC partners Ellie and Toby back to provide a more reliable escort to Mars.  However, Mars reckoned they did not walk anywhere near fast enough so took over the lead from the start.  We had some near misses with abrupt spooks and sideways lurches that nearly caused unseated riders on at least three occasions, but we all made it back to base together with no serious dramas.  We had a fabulous ride round a challenging, but fun POR route that left us up near the top of the leaderboard.  Then it was onto the PTV.  It was a great course, with plenty to look at and boy did Mars have to have a look.  Pedestrians and judges all needed a good staring at and she frequently ground to a complete halt just so that she could have a good gawp.  But every time when asked to move on she did and she tried everything (except for the immobility!).  She thoroughly enjoyed a good gallop up the hill towards the finish too.  I was absolutely delighted with her attitude and how hard she tried.  The combination of her brave effort and Toby's experience resulted in Mars' first ever red ribbon, so I was even more proud.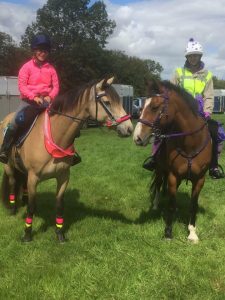 Last for my summer season was the level 1 championships.  Both ponies had proven that they could play the game.  I would dearly have loved to take Twilight to the champs, he has never been before and it would have meant so much to have had him there, we know each other inside out and I know how much he would have enjoyed it, but 2 weeks before the champs he went down with a touch of laminitis (from which he thankfully recovered very quickly) and effectively ruled himself out anyway.  So Mars was called on to step up.
It was a great weekend, with our little Central TREC Group camp, complete with fairy lights courtesy of Leanne and Chrissie.  The POR route was challenging and did make us think in a few places, but overall we were pleased with our orienteering.  The PTV was going to be the bigger challenge as it was definitely a step up from anything Mars had seen before.  She was rather full of herself in the collecting ring, but managed to pull herself together sufficiently to score a few marks in the canter MA…walk was not so successful!  As before, she tried her absolutely hardest on the PTV, but was very green, finding the open spaces and big views from the railway line rather overwhelming, not to mention the union jacks flying on various gates and a crocodile in the water.  She did however give everything a go, including the rather large path crossing.  Again I was so pleased with her, she definitely has potential for the years to come.  We came in 6th place and I could not be more pleased.
I finished the season so proud of my two wonderful Connemara crosses, both awesome in their own ways, Twilight because he is just so confident and enjoys it all so much and Mars because despite asking lots of difficult and new questions she tried her hardest.  So sometimes it really is like buses, having gone for years with nothing of my own to ride, suddenly two superstar ponies come along at once!