I first met Ausdan Sularis, (Sully or Sul to her friends), in December 2005, (the day after the Hatfield oil explosion fact fans!). Having set out to buy a 4 – 8 year old gelding I was off to view a 3 year old mare – given a Fjord fixation, (long story involving the eighties band a-ha, studying Norwegian at university and spending six months at the National Fjord Horse Centre in Norway), compromise is inevitable as there's not many of them in the UK. But it was OK – I was assured by the UK Fjord Horse Society that she was backed. Hmm. Turns out that having spoken to the Society they had clearly got on the phone to the lady who owned her and said 'Quick! Sit on her – she wants one that's broken!' as when I got there they said 'you can sit on her and we'll lead you round but she's never worn a saddle or a bridle'.
She was also skinny, scruffy and incredibly dirty with what I thought was clumps of muck all up her neck and round her tail. Someone had also pulled her tail which I thought was weird. Anyway, the owner tried to get on first and was legged up with such vigour by her partner that he literally threw her right over Sul – who peered at her with the disdainful look that I now know so well. The second attempt was more successful and as she survived the experience I got on.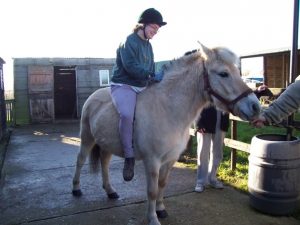 They led me round the most ramshackle yard I've ever been on with bits of boats, cars, oil drums and every other kind of junk that you could imagine. Sul towed her then owner around, eyed up each terrifying piece of junk with interest & desire to explore and demonstrated a walk I'd never known from a Fjord. I then asked to see her trot so the six foot partner led her across the lawn. Sul took off in the biggest trot that she could do, towing this bloke behind her and only stopped when she spooked at the hose lying across the lawn, sending the bloke flying. The deal was done: there was no way I was walking away from her and she was delivered to me a week or so later.
It's worth saying at this point that they put a fair amount of effort into convincing me that there was no point vetting a three year old. Remember that pulled tail and the clumps up her neck/round her tail? As I discovered in April when Sul took out the front of her stable, she has horrible sweet itch. Those clumps were scabs, not dirt – she must have been a real mess the prior summer which just breaks my heart. Fortunately a Boett is a marvelous thing and takes away 95% of the itchiness – but if you ever pass her at a show and she stands on three legs, she'd like you to scratch either her udder or her stifle please – she'll point you at which.
So Sul came home, Rolo our old boy promptly fell head over heels in love (to her complete indifference) and once she'd settled in & built some muscle we began the breaking process. By which I mean that she largely broke me in. I've never met a horse who a) tries so hard b) wants to do whatever it is you want her to do and c) is so convinced that humans are here to serve. Sul's not interested in affection, she's interested in Getting On With Stuff and reluctantly accepts that she's not allowed to run around in public without having me attached to her in some form or another. She's starting to slow down slightly now but for many years had no speed other than turbo – it took three years to persuade her to halt at all.
Initially we started with dressage, going to the BD regionals, BRC Nationals (and placing eighth overall) winning her section of the Chiltern & Thames champs at prelim & novice & coming second at elementary while also starting to try & find my brave pants so that we could do some jumping. Turns out that Sul has brave pants enough for both of us so as long as I enter, turn up and don't get in her way she'll pretty much jump the moon including taking me over a 1.10 rolltop, (she was going quicker than planned & I didn't turn to the rather more reasonable 70cm fence next to it in time. 'No problem' thinks I 'she'll just stop'. Nope – she kept going & jumped it.), jumping the 95cm oxer a course designer thought appropriate for the final fence in a 70cm jump-off and carrying me to show-jumping victory in the Area 6 Liaison Trophy. Not to mention jumping the below log despite me dribbling up to it & giving her every indication that I had no desire to jump it whatsoever.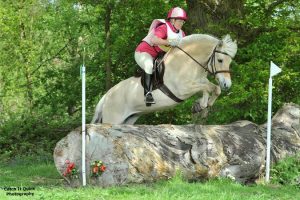 In the meantime I discovered this thing called TREC through a Versatile TREC organized by my riding club, which Sul won. That lead to Summer TREC & the discovery that I really have no sense of direction at all but that Sul is beyond awesome at the PTV/MA given her heady combination of zero spookiness, (barring horses pulling carts. And tannoys. Oh and applause.), intelligence & ability to jump/dressage. The inability to halt was an issue initially but despite this two trips to the National Championships followed and then with the transition to TREC GB the awesome Winter TREC series began – which is how Central TREC Group entered our lives.
Our first Winter TREC was Milton Keynes in 2016 – resulting in a win in the Open, beating one Sarah Wynn by one point, culminating in an overall seventh in the league. The following season saw Sarah put us back in our place, beating us 2-0 to take a 2-1 lead but despite this we managed to cobble together four victories and eventual third in the league. Sul would like to make it clear that we might have been higher up were her rider's bum a tad smaller given the number of low branches that were taken out.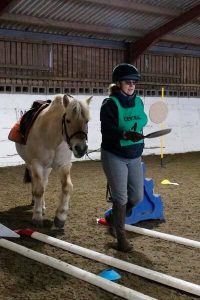 This season (2017/18): well this season, Sul is currently winning the league with four victories to her name but there's a fair way to go yet. She would like me to point out that she would have had five victories had her idiot rider not got a tad confused during the led gate at Quainton (I forgot where the exit was) and left her foot exactly where Sul needed to put her foot – she knew EXACTLY where the exit was. '5. Horse stood on rider'. Whoops. We've also taken Sarah to 2-2 in our personal battle with Open victory at Low Farm despite the rider's bum getting in the way of the low branches yet again. Sul just can't get the staff she deserves 🙂