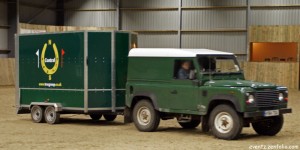 Central TREC Group exists to promote the rapidly growing sport of TREC and to run training events and competitions for members and non-members alike.
Our activities are centred on the counties of Warwickshire, Northamptonshire and Leicestershire but we welcome any offers to run events of any type outside these areas as we wish to encourage increased involvement in the organisation of events to enable more TREC activities to be offered.
Central TREC Group has been run on non-profit making lines since it was formed in 2011.  In late 2015 the club registered with the Charities Commission as a Charitable Incorporated Organisation, in order to take advantage of the better regulations for this type of organisation that this structure offers.
The committee includes a range of TREC experience from experienced and successful TREC riders to TREC enthusiasts who have not completed a competition but enjoy the satisfaction of running a smooth event that riders can enjoy.
If you would like to offer any kind of help to the club in any way shape or form, be it joining the committee, running a competition, helping at a competition or offering some form of financial assistance such as event sponsorship then please do get in contact via central@trecgroup.co.uk; we would love to hear from you!
Click here to meet the committee
Click here for our withdrawal refund policy
Click here for our club Constitution (approved at a General Meeting held on 7th March 2015)
Parental Consent Form (2021 version) Word Pdf Please send a copy of this form in with any entry for a rider under 18.